When the two size options went from 38/42mm to 40/44mm in 2018, the Apple Watch saw a boost. An image of a wrist strap, ostensibly designed for the Apple Watch Series 7, may have leaked information that suggests the new model would be an additional millimetre thick.
In this photograph, the product shows a close-up of the circular "45 MM" branding on Apple's wrist straps, which is marked for each size of strap. This image connects to what Uncle Pan (who leaked the Series 7 design) previously said about it having 41mm and 45mm sizing.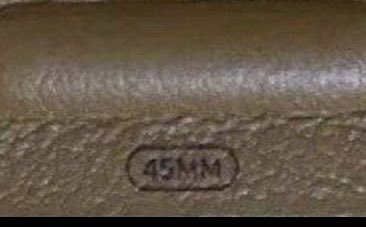 A bigger battery, flatter edges, and slimmer bezels are rumoured for Apple's wristwatch revamp. The CAD-based images released earlier this year have no indication of a size increase for the watch or its screen (which should have been a given, if the bezels get slimmed down).
Unsurprisingly, Uncle Pan has stated that the new wrist straps would work with the previous 44mm bands (even if the labels differ). This is fantastic news if you're attached to your old Watch's favourite strap.
Most estimates put the Series 7 Apple Watch's launch in the same timeframe as the next iPhone generation. We've heard the iPhone will start selling on September 17.