Virtual RAM capabilities can be easily added to devices via software updates, one of the more recent trends in the Android smartphone market. Samsung has joined in on this trend, following other Chinese tech companies.
Samsung refers to RAM Plus as the A52s' 5G Galaxy's latest feature. RAM Plus uses a RAM buffer to enhance image performance in places with a high number of connected devices. You'll be able to boost your phone's RAM capacity by using its own memory.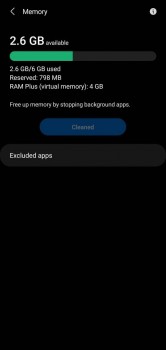 So, we wonder, what changed for so many companies to launch this feature on Android phones in 2021, when it has been a long-running feature in the computer world? Is it that storage is now sufficiently speedy?
It will be possible to get more RAM for your phone, at least theoretically, regardless of the answer (hopefully at least one of you readers is as old as we are to get that).
This feature is being deployed for the A52s 5G in India using the A528BXXU1AUH9 software release. The changelog says it is an additional 250MB, and it's going to improve the camera stability.