Last month, Infinix unveiled the Zero X series, a premium line of periscope-enabled smartphones. However, we know that the corporation is working on more phones because we acquired images of one from a reliable inside source.
From what we've gathered, this is a brand-new Infinix Note model. While we do have a Note 10 Pro in the office, the rear of the phone looks completely different (see the comparison shot below). According to the labels, the camera bump has three modules, the largest of which being a 64 MP sensor..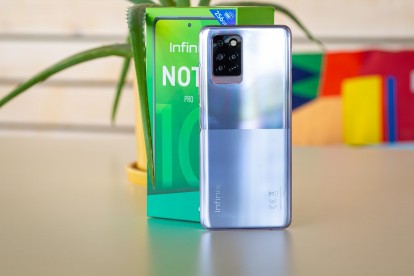 An Infinix phone that is yet to be announced, possibly a new Note model • Infinix Note 10 Pro's back
Although there's no periscope on board (at least not one that we can see), there's also a "30x telescope zoom" marking on the device.

The camera app zooming in
On the Infinix phone, the homescreen looks different than on other Android phones running XOS. Those who aren't familiar with the Note 10 Pro can see for themselves how the widgets and icons have been revamped on the Note 10 Pro.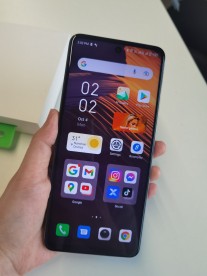 A new version of XOS? • XOS 7.6 running on the Infinix Note 10 Pro
The final image depicts three mobile devices. Although a Pro version is possible, we don't believe these are different models; instead, they are most likely three different color schemes. Lighter and darker colours alternate in a delicate stripe design.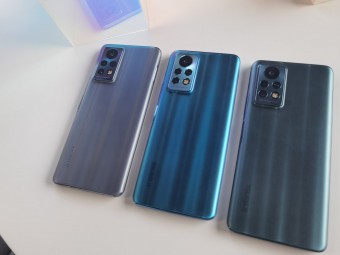 Three units of the upcoming Infinix phone showing off different colorways
For the time being, there is no official Infinix event scheduled, so we have no idea when this enigma will become public knowledge. There's no telling if this improved version of XOS will be made available on additional devices after that.