Leaked Images Show the Nokia G300 5G, which is Powered by the Snapdragon 480 CPU and has a 720p+ Display
Another low-cost 5G Nokia phone is in the works — two, in fact, but just one's specifications have leaked today according to the rumour mill. The Snapdragon 480 utilised in the Nokia G50, X10, and X20 is expected to power the G300 5G. (speaking of, the other upcoming phone we mentioned is the Nokia X100).
Because HMD Global never made a Nokia G30, this isn't a follow-up to that device. Even in terms of cameras and batteries, the G30 isn't much of an improvement over the G20. It does have 5G connectivity, though, and is equipped with a considerably more powerful chipset (a Helio G35 is easily beaten).
With a 6.57-inch LCD and 720 x 1,600 pixel resolution, the Nokia G300 is a powerful smartphone (20:9 aspect ratio). A toughened glass wasn't mentioned in the leaked papers, therefore this has nothing exceptional to offer. It's smaller than the G50's display (6.82″) but around the same size as the G20's (6.52″).
In addition to the front-facing 8 MP camera, the phone has a 16 MP rear camera, a 5 MP ultra wide, and a 2 MP depth sensor. The main module on the G50 and G20 both have a resolution of 48 MP (which also adds a 2 MP macro camera to the mix). With a 13+2+2 MP configuration, the G300's camera sits midway between the G10 and the G20 in terms of performance.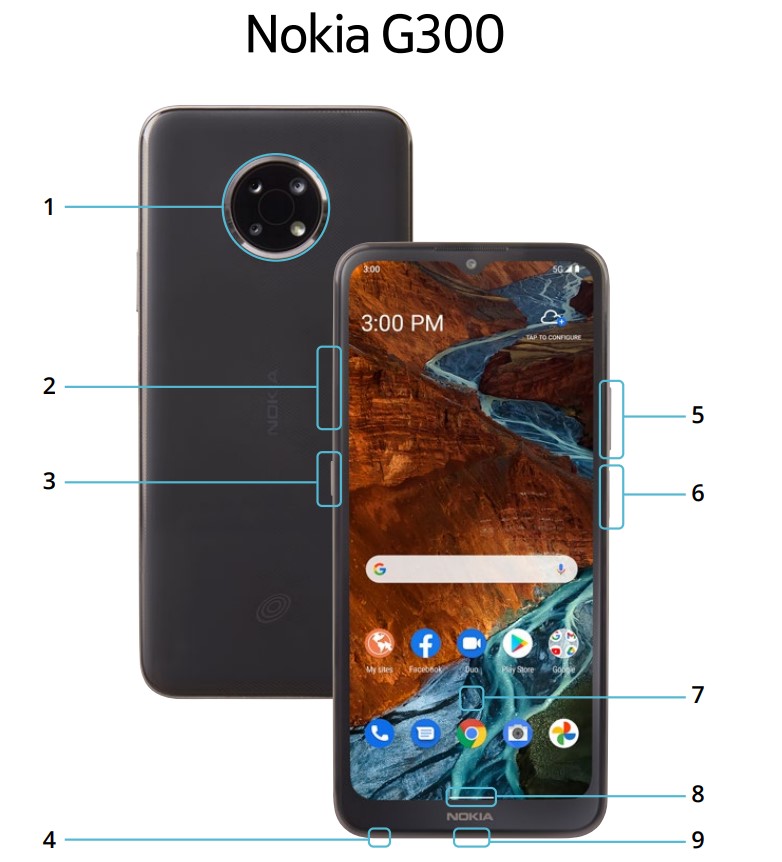 It has a Li-Ion battery with a capacity of 4,470 mAh, as well. While this is good, the G20 and G50 both have larger batteries (about 5,050 mAh). As of right now, it's unknown whether or not rapid charging will be available (the G50 does 18W).
The Nokia G300 5G will come pre-installed with the most recent version of Android, 11. (one of the few remaining clean versions, mind you). It'll have 64 GB of internal storage and support for a 1 TB microSD card as well.
Once again, all of these details are based on leaked information, which did not include a price. Exactly how much does the G300 go for? As far as price goes, it's a no-brainer: the G20 starts at €160 and only supports 4G LTE. The G50 will retail for €270 when it goes on sale in the near future. A 1080p+ display, a 48 MP main camera, and 18W fast charging are all included in the X10's launch price of €310 (it's currently less). There's also three years of OS updates instead of two for the G-series, which is an added bonus.
In other words, the Nokia G300 should cost something in the neighbourhood of €160-€270. Of course, that's only a hunch; HMD's October 6 event will provide more concrete details (which will bring a Nokia tablet too).